How to Throw a Marbled Mug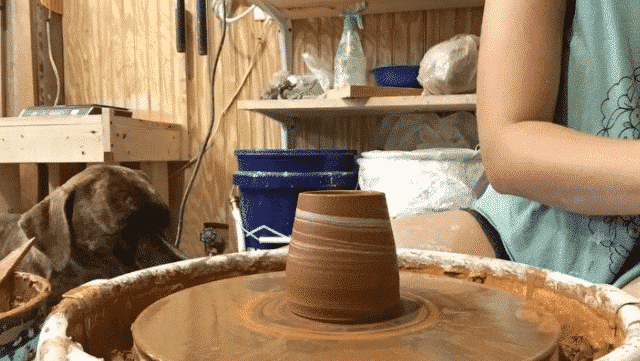 In this video, we see Melanie Westheiden from Swell Ceramics throwing a marbled mug.
Melanie is from the Outer Banks and her work currently focuses on marbled mugs and landscapes that she gets from her surroundings and travel.
Step by step Process of Throwing a Marbled Mug
When it comes to making marbled clay, it is important not to wedge the clay too much if you want a specific design. If you're trying to achieve stripes at the top of your piece or stripes throughout it then you will layer the clay similar to a sandwich. You will start with the clay color you desire as you base at the bottom and then layering the different colored clay between the original clay you're working with. If you don't wedge it and instead just seal up the edges with your fingers and start throwing you will get vibrant stripes up your piece.
In Melanie's video, she starts with the ball of clay on the pottery wheel and centers it. She then cones up and down to ensure the clay is centered and then opens her form. Melanie compresses the center of her form and then begins to pull up, cut clay off from the top of the piece when it becomes uneven, and then cleans up the bottom of her form. In the end, when she is almost done with her form she uses a metal rib
to clean away the water and slurry from the surface of her form. This reveals the clean marbling look of her clay and it is ready to cut and take off the wheel.
To see her finished marbled mugs, check out the image below!
To see more of Melanie's work find her on Instagram @swellceramics.