Join 20,000+ Potters who get our weekly email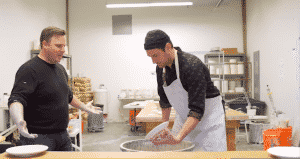 Join Brad from Bon Appétit at Keith Kreeger Studios in Austin, Texas as he learns how to make ceramics, from wedging clay and using a wheel to glazing and firing. Spoiler alert: Brad actually makes a decently useable bowl.
Ceramic School Instagram Feed
This error message is only visible to WordPress admins
Warning: The account for needs to be reconnected.
Due to Instagram platform changes on June 1, 2020, this Instagram account needs to be reconnected to allow the feed to continue updating. Reconnect on plugin Settings page
Hundreds of Online Ceramic Courses are coming soon... Just for you!