When it comes to working in the studio everyone has preferences for what environment they like to create in. Some people prefer silence, while others enjoy listening to music in order to help them work better in the studio. If you enjoy listening to music, this article can help you choose what music best fits…
>> Read More <<
Get Pottery Tips, Tricks, News and Inspiration straight to your inbox - every Friday at 8am!
No Spam. Unsubscribe anytime.
Welcome to the Ceramic School
Here at the Ceramic School we are potty about pottery!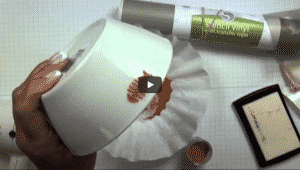 Embossing has been around for decades and is commonly used to create a raised texture on paper craft and cards.  Embossing is a very simple process – All you basically need is embossing glue, embossing powder and a heat gun. Since the introduction of embossing glue pens, embossing has become a popular art form among…
Get Ceramic News Straight to your Inbox
Don't worry, we don't sell or spam your email address. You can unsubscribe at any time.
Hundreds of Online Ceramic Courses are coming soon... Just for you!
Do your pots go all wobbly when they're on the wheel? Take this online ceramic course to find out how you can master the art of throwing clay.
Creating and Mixing your own glazes can become really complicated, and if you mess up, your pots are ruined. Take this Online Pottery Course to become a Glaze God - your work will look Fantastic!
Do you have a spare square meter in your Garden? Build a Kiln on it! Our online Kiln Building Course takes you through the process of designing 5 different Kilns!