Our no-nonsense approach to building up your target audience with Instagram.
This is our proven pathway to growing your audience with Instagram.
By following these steps, you could grow your target audience to 10k followers, 25k followers... or even 100k followers!
Each step builds on the next, so you're not jumping in the deep end...
It's a simple set of steps to help you grow a steady stream of customers 🙂
(Try saying that fast five times!)
At the bottom of this page are several links...
An Instagram For Potters Workshop for you to join - 10 modules & 5 hours of video.

A Free Instagram Challenge

A link to our Six-Week Online Marketing Workshop.
Step 1: Set up an Instagram Account & Make a plan.
First of all, you're going to need an Instagram account. This is very easy to do - download the app on your smart phone (iPhone, Android, or Windows), fill out a couple of profile fields, and you're ready to go.
Pro Tip: Plan your Target Audience.
Who do you want to sell to?
Demographic: Which generation are they? What's their age range? Where do they live? What kind of job do they have? What kind of educational background do they have?
Lifestyle: What do they like to do in their free time? How do they feel when they're doing that? What is important in their life? Do they have kids? How important is family, healthy living, food, working out, travel, or personal success? What are the kinds of status symbols they'd like?
Personality: How do they behave? What do they care about? What would make them smile?
---
Step 2: Start to create breath-taking and inspiring photographs of your work
Once you have Instagram installed, and you know who you want to target, you can start to take photos of your work.
You have to show your audience what they are missing out on - what they should be buying. It doesn't cost anything to take & post a photo. And you can post as many as you like, as often as you like. Which means you can reach hundreds or thousands of people per day!
Pro Tip: Get the right aesthetic.
This is an important one, because it determines the first impression your Instagram feed will make on a new user, which in turn will determine whether they'll hit that "Follow" button or not!
First impressions matter more than ever, because five seconds is all you have to convert users into followers. The more consistent you are in your aesthetic and the better your overall feed looks, the easier it will be to achieve that goal.
Step 3: Start to create your own videos for people to watch
People love watching videos on social media, and love to share them with their friends. So, step up your game, and instead of taking still photos, start creating & producing videos that attract attention and inspire people to buy your work.
Pro Tip: Have a consistent video styling
Let's talk quickly about graphic design and building a brand. When you started your pottery business, you most likely also created a logo, maybe even with the help of a professional graphic designer, because you know that great design is important.
You selected colors, fonts, and decided how the logo should look.
Your Instagram feed is just as much part of your branding as your logo or website - and it applies to the images you post, and the videos too.
---
Step 4: Start to use Instagram stories to show your fans backstage
By posting to your Instagram Story every day, you can make your followers feel like they are your friends, and that they are there with you in the studio. By getting your followers emotionally invested in you, you create a lasting relationship with them. And this relationship with your followers will eventually mean more sales for you!
Pro Tip: Tell the whole story of you and your products
Use Stories to show your audience the following types of posts:
Product Shots

The typical content for any eCommerce store is going to be product shots. They highlight your product and only the product. The background should be just that, a background, and not distract from the product itself.

Micro Shots

Micro shots are close-ups of things that you want to draw attention to. They create focus and attention to detail. Micro shots are perfect to communicate what your product is all about.

Macro Shots

You guessed it, they're the opposite of micro shots, and show you, your product, or whatever the focus of your account is in a larger context. For example, drinking a coffee out of your mug - outside in the snow.
---
Step 5: Start to Live stream on Instagram to connect directly to your audience
Once you're confidently using Instagram stories, you can progress forward and start to do some live streaming. This allows you to connect directly with your audience, and have a two-way conversation. You can answer any questions they might have, answer any reservations they might have about buying your work, and really start to connect with them.
Pro Tip: Make your live streams regular like TV, so your audience know when to expect you.
With so much choice on TV at the moment (We're looking at you Netflix!) lots of people are suffering from "Paralysis by Analysis" - You've probably also had the feeling - scrolling through hundreds of movie titles but still complaining that
"There's nothing to watch!"
And as such, many people are switching back to regular planned TV. Make your live streams regular, and people will tune in.

---
Step 6: Use hashtags in your posts to reach the right audience
Once you are producing great content, you can start to think about who you want to see your posts. The way Instagram works is that people can search for topics that they are interested in - or #hashtags. For example, if I was interested in cows, I could see all the photos and videos that have been categorized, or tagged as #cows.
Want to learn how to pick the right hashtags, and the secret apps we use that save you time and make it super easy to get found?
Watch my FREE online Workshop about Hashtags.
---
Step 7: Start to engage with your followers to get more sales
The key to getting lots of people joining your audience, keeping them in your audience, and getting them excited to be following you is by creating engaging content. Create content that sparks conversations. Create content that is impossible to resist liking, commenting on, and sharing.
Pro Tip: Be Sociable
Don't just post photos to your account and then log off. Social media is a two way conversation, so get in there and comment on photos and videos - you'll bring more traffic to your account if you're active.
---
Step 8: Start to automate your posts - so that you can spend less time on social media, and more time in the studio.
Once you have everything set, and you've got a routine, you can start to automate your account by using automation tools like HootSuite, Plann, or Planoly.
Pro Tip: Have an Instagram Sunday.
Condense your time working on Instagram to just half an hour each week, and schedule content throughout the week. This gives you loads more time in the studio!
---
Step 9: Start to sell to your followers
So by now, you have your followers, you have the dedicated fan-base, the audience of potential customers who love your work. Now you can start selling to them.
Start posting work for sale, and link them to your online shop.
Pro Tip: Set up your online shop.
Set up your own online shop and start sending your followers to your shop.
There are plenty of ways to sell your work online.
Just search for "Online Shopping Platform" to find the massive list of options...
We would recommend Shopify, WooCommerce, or Weebly.
(We would not recommend Etsy - see "Should I Sell on Etsy?")
If you want to learn how to build your personal brand, create your website and set up your online shop, then join our Six-Week Online Marketing Workshop.
---
Step 10: Start to pay for Adverts to expand your audience of potential customers and make more sales.
Once you are making sales from your Instagram account, you can start to crank up your production. But if you really want to take your business to the next level, then you need to attract a larger audience. You can pay Instagram to show your posts to a larger audience of potential customers. Even just $5 / day can double your daily sales.
Pro Tip: Start small and scale up
Start by promoting different types of posts, with a low daily budget, and then scale up on the ones that are bring you sales.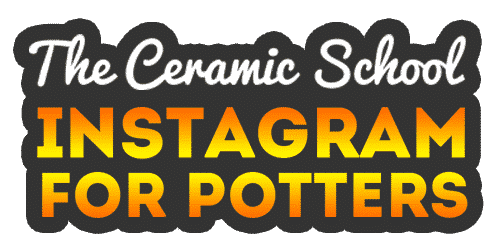 Make your Dream a Reality
Congratulations, you've made it!
So now you know how to build up your target audience of potential customers by using Instagram...
You have the framework to follow...
And you can go out and create your own success all by yourself.
But you don't have to do it alone!
After all...
"There is immense power when a group of people with similar interests gets together to work toward the same goals."
― Idowu Koyenikan
Let us help you use Instagram to start your Pottery Business
Join our Instagram for Potters Workshop and let us teach you how to Start & Scale your Pottery Business by using Instagram. With over 100 easy to follow videos, downloads, worksheets, we show you exactly how to build your pottery business by using Instagram.
So... are you ready to live off your ceramics?
Not quite ready to invest in yourself?
Join our Free 10 Day Instagram Challenge & let us, and our community, help you succeed.
Our Free Email Challenge sends you a new task for you to complete.