Wanna Learn how to use Instagram for your Pottery Business?
This free 1 hour workshop will teach you how to sell your ceramics on Instagram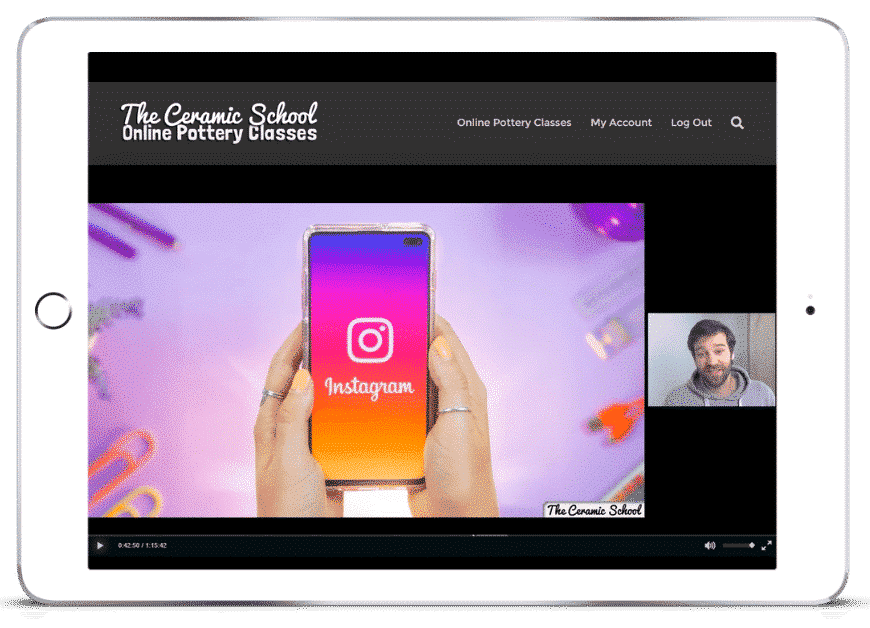 The 3 huge mistakes that stop your customers from finding you & your ceramics!

What you should never do when trying to sell your ceramics online.
The Mindset you need to turn your Passion for Pottery into a Proper Business.
What did other Potters think about this Free Video Workshop?
Janelle
"Thanks for doing this! It is exactly what I needed...perfect timing :)"

Cabby
"Clear, accessible and fun!"
JagCeramics
"Very interesting, lots of great tips."
Russell C
"Very organized and competent setting up the tech. pleasant easy manner in presentation, warm and genuine. presented useful information in a clear understandable way with great examples and visuals. very glad I took the webinar."

Michele H
"So awesome I signed up to the Instagram Academy!"

Amy I
"Thank you, Josh. The information was great and your delivery was easy to understand. My teenage son made fun of me for Watching but I'm certain he doesn't know as much as you. Can you please email the link"

Malgorzata A
"very helpful! Thank you!"

Alejandra D
"Josh is extremely knowledgeable and generous with his knowledge. This workshop was greatly helpful like all his other workshops! Can't wait for the next one! Thanks so much Josh!!"

Karen D
"I look forward to the mini course. Thanks"

Peggy R
"Timely, confirming and inspiring as I am launching my retirement career after 40 years in a different field. I especially like Joshua's unaffected, level headed and intelligent style. Thank you!"
Carrieation
"The workshop was well organized and your explanations were so clear.
Thank you!"
Rosemary L
"Joshua was very thorough In explaining the hows and whys of using Instagram for your business."

Susan W
"The information was well presented. It was easy to understand with good examples given. I picked up some good tips that I am going to try. Thank you, Joshua!"
Jacquie S
"Loads of information to think about & very useful ... thank you"

Leslie H
"The tips on how to make hashtags more effective was probably the most memorable bit of advice. Because I can remember it right now w/o checking my notes."

Katy T
"Very helpful for me as I am a bit older and a complete numpty when it comes to social media!
Thanks very much for very helpful tips - may well do the longer course..."

Martha G
"Thank you the great information. I have taken other web based classes on similar topics, yours has been the best. Technical people often forget that creative types don't enjoy tech heavy lesson plans. You kept it simple and that it what I need."

Clare G
"Useful advice. Could have been shorter but still worth watching. Thanks"

Alexis
"It was very helpful, thank you so much!"

Roberta C
"I really enjoyed what you had to say, and the pace you moved along at. It was very informative. Thank you."

Kirsty K
"So much great information!"
Janie P
"This was really useful, thank you so much!"
Martie M
"This was a great intro to using Instagram for promoting my art. It was just enough information to embolden me to get started!"

Deb R
"I thought the info covered was very appropriate and the way it was presented was very understandable."
Diane O
"Good information presented in an understandable way. I now have a better grasp on what hashtags are and I liked the library analogy.
Again thanks"

Howard S
"Excellent Content and well organized. The examples were well chosen and walking through the range of hashtags was very educational. This well exceeded my expectations."

Cassandra G
"Very useful info about thinking like a customer."

Christine W
"So very helpful and inspiring. Thanks for helping us potters!"

Dan H
"Great information and advice provided. It wasn't a really polished presentation but actually preferred the casual approach. Well done mate."

Rhonda V
"It had some great info. Had no problem both hearing and seeing the info given."

Kris S
"This webinar was practical, helpful, and inspiring! I am so looking forward to putting Josh's suggestions into practice. Also, I am looking forward to the course/webinar on creating an online storefront or website. Thanks so much!"

Carrie A
"The reference to the library and books vs using hashtags right and wrong really helped me to understand! Thanks"

Courtney H
"I love your dedication and support to this community!"
Christy M
"Very informative class taught in an easy to follow and understand format. Thank you Joshua for the information."
Are you Ready to Start your Pottery Business?
Register to watch this FREE Instagram Training Workshop