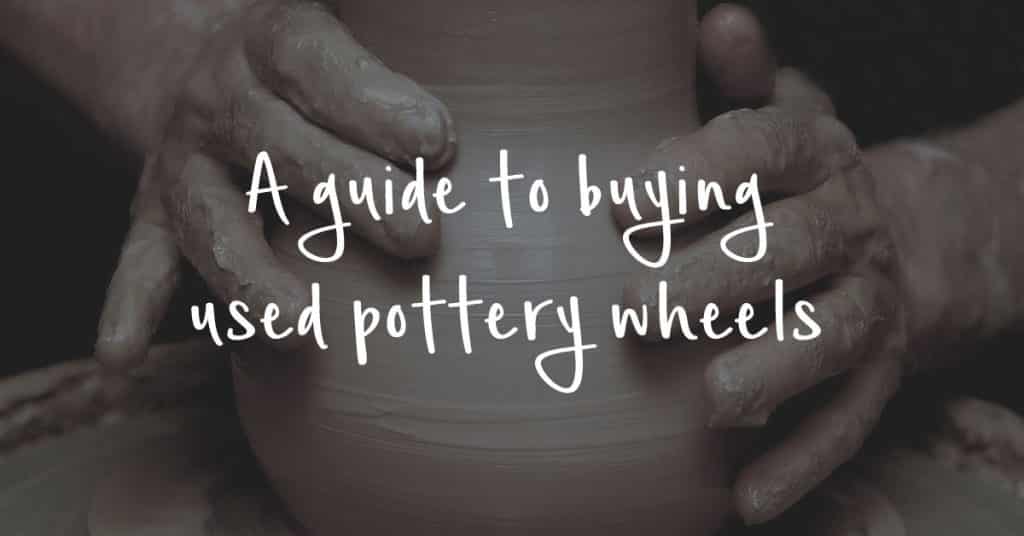 Used Pottery Wheels : A Buyers Guide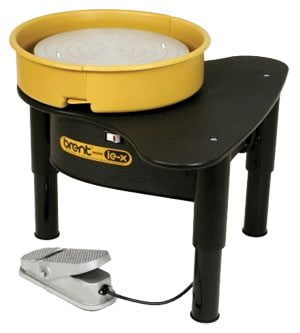 Used pottery wheels are amazing buys, if you think about it. Who is selling a pottery wheel? Someone not using a pottery wheel! Most of the time the used pottery wheels are in great condition. More often than not, the seller would have bought the pottery wheel wanting to try pottery out, but then after a while realized that the didn't have enough time to continue on their hobby. It is a shame when this happens, but it's good fortune for you!
Of course, some of the used pottery wheels are being sold because they are broken - and this guide will teach you what you need to know to make sure you don't buy a broken used pottery wheel. 
Used pottery wheels are obviously the cheapest option to acquiring a pottery wheel - but don't rule out buying a new pottery wheel - as there are some really good and affordable pottery wheels for beginners - and they also come with guarantees and warranties!
Want a great wheel for around $500?
Get the Speedball Portable Artista Pottery Wheel from Amazon with Prime Shipping - Read more about it here.
Buying a Used Pottery Wheel
When purchasing a used pottery wheel you have to keep in mind several points.
The power cord:

Does the plug look alright? Are there any bent prongs or burn marks?

Does the plug have 3-prongs? If it does, the wheel will be grounded when it's plugged in which is safer when working with water.

Does the cord look alright? Are there any cuts or exposed wires?

How does the wheel sound when it is turned on and spinning?

If it purrs then it is probably alright, but you don't want to hear any grinding or loud squeaking.

If it does make a lot of noise, then either the wheel head bearings or the drive belt might need replacing.

How robust is the foot peddle? Stamp on it a couple of times and make sure it doesn't stick.

Does the wheel head speed up and down as you would like when pushing the foot peddle?

Does the wheel head spin correctly? is it flat? (yes you can take a spirit level with you!)

Does the wheel head wobble when you push down on it?

Is the wheel head connected to the shaft securely? (try pulling it off.)

Inspect all of the screws and bolts connecting the wheel head to the shaft. Be on the look out for damage or rust.

Try and stop the wheel head easily just by grabbing it when the wheel head is turning slowly.

Is there any rust? are there any holes in the splash guard?

Is it heavy / stable enough? how are the feet mounted to the floor?
Conclusion
If you keep your eyes open, you could find a great used pottery wheel that will last for years. It's all about inspecting the machine before you buy it, and feeling confident with your purchase. If you have any doubts at all, just wait for the next one to come along and go and have a look at it!
Read our guide on Pottery Wheels for Beginners - we list affordable pottery wheels for beginners.
Keep your eyes open and you'll save a lot of money for a great machine

Most of the time -- great condition

Already worn in
It might run for years, it might die in a week.

You may not get a manufacturers warranty or guarantee on the used pottery wheel.

If might not be 'perfect' - dents, scratches, etc
What are the Best Used Pottery Wheels to buy?
Thinking about buying a used pottery wheel? Keep a look out for the following models!
We highly recommend purchasing Used Skutt Pottery Wheels when buying second hand. If you buy a Skutt new, it would cost you between $1,000 and $2,000 - whereas if you buy a secondhand Skutt - you can pick them up for around $400.
Why do we love Skutt pottery wheels? 
Skutt pottery wheels deliver great power and professional performance at an affordable price. They are designed to be used in professional studios and classrooms, and as such, are capable of easily handling more than 50kg (100 lbs.) of clay at a time.
They run extremely smooth, they have the most torque for the money, and the big splash pans keep the studio clean.
Conclusion
If you find a used Skutt pottery wheel for around $400 - $500 & it works well, you should buy it.
Professional Pottery Wheels

Loads of power for the price

Big Splash pans to keep the surrounding area clean

Keep their price well (easy to resell)