How to Design a Logo for your Pottery Business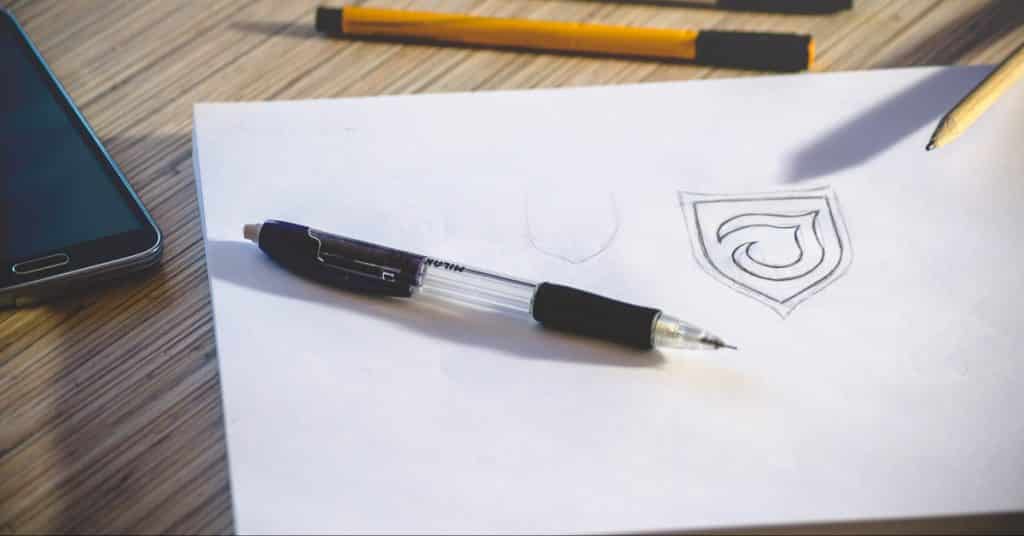 Why you need a good logo from the start.
Your Personal Brand.
It's one of the first things you should think about when starting your pottery business.
First things first, you need to have your own logo.
Well, it's a waste of time building brand recognition only to re-brand later on.
You might be asking how to get a logo? Well you have come to the right place to find out!
When you have a professional logo:
You seem more professional, therefore you can charge higher prices for your work.
You can attract the right audience with just your logo.
You can start to create your online brand & online shop.
So how can you create a logo that attracts the right customers?
What to think about when creating a logo:
Logo Text:
Logo design all comes down to your Brand Name.
It's normally "Your Name Ceramics" or "Your Address Ceramics" something else that means a lot to you.
Picking the right brand name for your pottery business is something that requires serious thought.
It is the token that gets passed around when your potential customers are talking about you.
Logo Tag lines:
A tag line should sum up your business in less than 5 words.
Tag lines help you really hit the nail on the head as to what you create, and also allow you to add in your own personality to the imagination of the customer.
For example:
"Wendy's Pots, Home-made planters your garden will love."
"Wendy's Pots, Seaside sculptures for inside and out"
"Wendy's Pots, Tableware without a Care"
"Wendy's Pots, Voluptuous Vases for Vampires"
Wendy's Pots, the company name, or the brand name, doesn't really tell you much about the company as a whole.
But the the tag line really sets different expectations within the minds of the reader / potential customer.
Once you have a Brand name and a Tag line that you love, you can start to think about how to lay it out.
Generally, the brand name is on top, in a big bold font, and the tag line sits underneath in a finer font.
Choosing a Logo Style:
Youthful, Bold, Elegant, Energetic, Industrial, Modern, Natural, Homemade.
You logo can represent many different styles.
Think about your target audience when choosing a style.
You wouldn't expect a bright, bold, orange, and youthful logo for a minimalist sculpture company.
You wouldn't expect a boring grey logo for a person who creates bright pots for kids.
The style of your logo represents who you are, and what you are trying to create.
It can attract customers from across the room, so make sure it sends out the right message.
Choosing your Logo Colors:
When designing a logo for your pottery business, you should think about it both in color and in black and white.
Colored logos are amazing to display on social media, your website, or printed out on business cards.
Black and white logos are great if you want to print it off on black and white printers.
But a more modern reason to think about B&W is that you can then use it as a stamp to stamp your ceramics.
If you want to use your logo as a stamp, you cannot have gradients, or grey-scale – it needs to be a crisp black and white logo, that can easily be transferred to a plastic, rubber or metal stamp.
Please note, that when ordering a stamp; black is always impressed, and it will be the part that gets pushed into the clay. With that being said, you should think about how black is used in your logo. For example, if you have black circle with white writing inside, you will have to push your stamp into the clay to impress hard enough to also raise the white lettering. This can sometimes result in deformed work. Instead, you should outline the circle in black, and to also change the letters to black, so the circle and the text would be pressed into the clay.
Logo Shapes & Icons:
There are lots of different shapes your logo can take.
But we recommend that you think about the following:
Does your logo look good in a circle? Used for your Instagram profile picture.
Does your logo look good in a square? Used for your Facebook profile picture.
Does your logo look good in a rectangle? Used for website logos, email headers and footers, and stationary / order forms.
Does your logo look good small? If you want to use a stamp, you can get them as small as 12mm and up to 76mm.
Learn how to Make a living as a potter…
by selling your ceramics online
How to create a Logo:
There are a ton of different ways to create your own logos.
Below we have listed the different ways to create your own business logo.
Hand Drawn Logos (Free):
One of the simplest ways to get started is to simply draw out your logo on a piece of white paper using a pencil, then outline it with a black pen.
It will probably take several revisions until you are happy with what you have – when you are happy:
Scan it in, or take a photo with your phone (Use the PDF Scanner app to take a high res photo)
Next you'll want to color it in, tidy up the lines, make it transparent.
You can edit your logo by using software on your PC (Adobe Photoshop & illustrator for example) or online on pixlr.com.
Or you can use your drawing as a basis for the next step: Designing it on a computer.
Online Logo Makers (free & paid $):
There are a ton of free logo design websites available, which are a great way to spend an afternoon just blocking out logo design ideas.
There are generally two types of online logo makers available, the first just shows you AI generated designs, and you keep clicking next until you find one you like.
These are a great way to find inspiration.
The second is an editor, where you have to start from a blank page and build up your logo.
You can choose the font styles and see what works best for you, the colors, and the shapes / icons.
It is the fastest way to rough out a logo, and you really can create a logo you are happy about within half an hour.
We recommend using CANVA to create your Pottery Business Logo, as they are super easy to use, they come with lots of templates for you to try out, and you can download them in high quality. There is a free version, but we would suggest you Try CANVA Pro for FREE for 30 days.
(30 free days is plenty of time for you to make your logo)
Other options include:
Of course, once you are happy with the design, you could just take a screenshot and use that – but we highly recommend paying for your logo design. You'll get the full rights to use it and a high quality, high resolution logo to use that will look great on all of your promotional material.
Logo Software (Paid $$):
To be honest, there's not much benefit in downloading a free logo design software when you can use the free online logo makers.
However, if you really want to run something on your PC…
Adobe Photoshop and Adobe Illustrator are the main software programs to create logo designs.
They have steep learning curves, and they are tailored towards professional graphic designers.
Adobe now offer their products on a monthly subscription service.
You get a free trial, and after that it's not much of an expense to have.
Especially with the addition of Adobe Lightroom – which you can use to touch up and edit your photos of your ceramics, then its well worth it for most potters.
Custom Logo Designer (Paid $):
Sometimes, doing everything yourself just takes too much time.
We really like the way 99designs works.
Basically, you create a project brief "I want a logo for my pottery business called XYZ"
Which is then open up to all of their designers to send you ideas and sketches.
IF you like one, you pay the designer.
Another option:
www.Fiverr.com is one of the best places to get a cheap logo design – as the name suggests you can get a logo for just $5.
It's a marketplace for all sorts of digital services.
Simply choose the Logo category to get started, then scroll through until you see a style of logo that you like.
Check out the artists other work, and then compare to see the options they give you when designing your logo.
Most of the "gigs" come with extras that you can purchase, and we suggest you really think about buying them .
For example, high quality design might cost another $5. Extra detailing on your logo might cost another $20.
Most orders on Fiverr are covered with a money back guarantee, so if you're not happy with what you have received, you will be able to get free revisions until you like your design, or get your money back.
Don't be scared to spend up to and over $50 for  a logo.
It will be yours for the next 10, 20 years, and it will be money well spent.
Alternatively ($$$):
Search for Logo Design or Graphic Design in your area, and call them up or just pop in for a chat.
Yes, going to a real life graphic design studio will be more expensive than using an online generator – but you will get amazing customer services, and you can be guaranteed to love your logo.
Plus, they will usually help you print out your design on other promotional material.
What should you now do with your logo?
The very first thing you should do is order some Stamps to stamp your ceramics.

The sooner you can start to stamp your ceramics, the sooner your ceramics will look more professional.
Get yourself a small, medium, and large stamp at the same time, so you can stamp small and large things.
We recommend using

MetalClays.com

.
They have free worldwide shipping, and can even help you with your design.
Get 10% off your order with coupon code "TheCeramicSchool"

Create Social media profile photos.
Update your Website header or Etsy / Folksy header.
Create an Email header & an Email footer.
Create some promo Banners, Posters, Flyers – we recommend Vistaprint.
Order some Business Cards – we recommend moo.com
Print your logo on your shipping materials.
Order some Stickers to hand out to your customers.
Need Help Starting your Online Pottery Business?
Learn how to market yourself online, to bring in a steady stream of customers, so you can start living off your passion for pottery.
Click here to read more about the Online Business Workshop.