How to Texture your Work by Pushing the Clay
Online Pottery Workshop with Lora Rust
Hi, my name's Lora Rust,
And in this workshop I'm going to show you my unique texturing technique of Pushing the Clay using my personally designed tools and simple everyday items to create lush, oh so touchable designs.
You will be be learning...
How to use everyday objects to make marks,

How to glaze your work to highlight your marks

Bonus - How I make my hollow handles
By the end of this workshop, you will:
Be able to make your own designs by pushing the clay.
This video workshop is 68 minutes long, you will have lifetime access to it, and you will be able to download it to your device.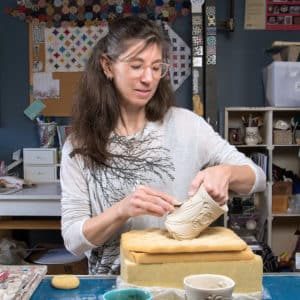 As a ceramic artist, my goal is to bring a touch of artistry and elegance anywhere in the home.
Working in porcelain, my stylized technique is a unique process of striking and moving clay with personally designed tools, creating lush and fluid surfaces that beg to be touched.
Designs and patterns found in Gothic Architecture mixed with the fluidity of Art Nouveau are strong influences for my patterns. Inspiration from textile and fabric design provides movement to the texture on the form.
My work is made in my studio in Atlanta, GA and fired in my soda kiln in Blue Ridge, GA.
Sodium vapors glaze the exterior of each vessel, interacting and uniquely highlighting the form and surface.