Marbling a Mug with Glazes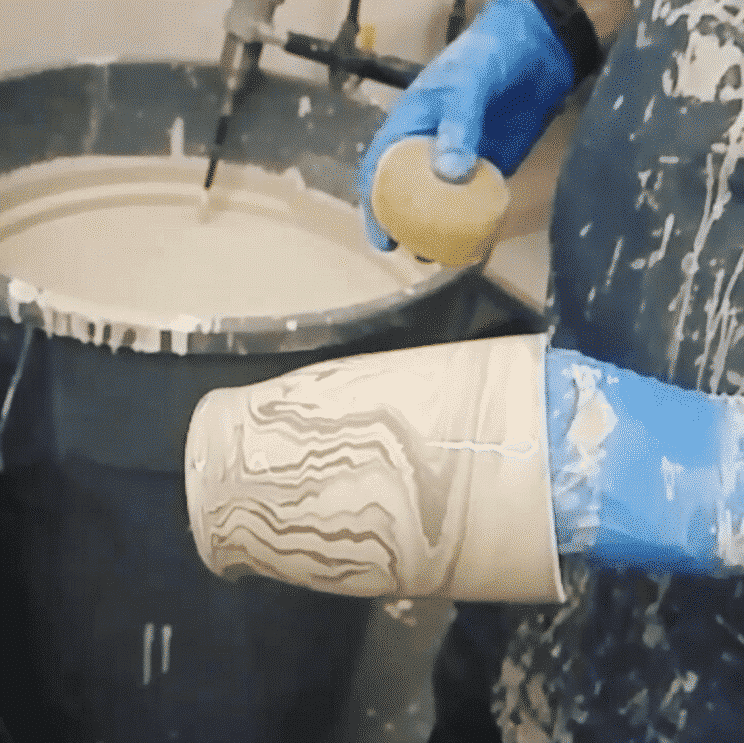 In this video, Lauren Thomeczek from PotteryIsMyDayJob, shows us how to marble a mug with glazes.
Lauren works at Simon Pearce as a full-time production potter and is one of eight potters employed there.
In the description of the video Lauren says:
Our glaze team continues to slowly turn the mug as the glaze begins to set up and dry. The most difficult part is getting the desired pattern to stay and not flow away. The glaze must be fluid to allow for the marbling to occur, but it can also prove difficult to control! After the marble glazes have dried over night, the whole piece is dipped in a clear liner glaze the next day.
She adds in the comments of the video that her team adds cmc to delay the drying of the glaze, which is vital to marbling the glaze and another additive to dissolve the gum as well.
If you're wondering what cmc means it refers to organic sodium carboxymethylcellulose aka gum. Gums are used in pottery to harden unfired ceramic glazes for safer handling of the ware, but can also act as a suspending agent.
You can buy CMC from Amazon here.
If you want to see more of Lauren's work find her on Instagram!