How to Print on Clay (Positive & Negative)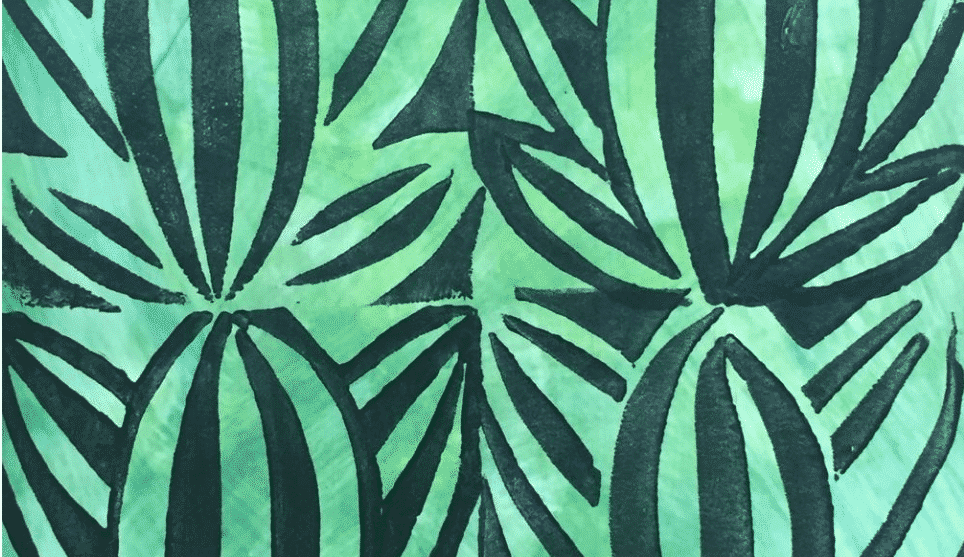 The following 10 videos from Kathy Skaggs show you how to print on clay by using positive and negative cutout prints. This is a fantastic technique which allows you to create amazingly decorated ceramic tiles.
Draw your design. To start this project you will need three pieces of craft foam: two pieces of 3mm thick and one thinner sheet that has a sticky back. Cut the foam 1/4 the size of your tile. In this case we are using a 6" x 6" tile so the craft squares are 3" x 3". Draw your design with a pencil, pen, or marker on the sticky backed piece of foam.

Peel and stick. Remove the back the adhesive craft foam and stick it to your thicker piece.

Cut on the line. Peel the back off the sticky foam and press onto the thicker foam. Use an X-ACTO Knife to cut on the lines through the first layer of the craft foam.

Peel part of your design and put it on your other pieces of foam. Remove parts of your design and stick it to your additional foam sheet. This a project about Positive and Negative space so give some thought to which parts would be the best to remove to create an interesting design.

Draw on your tile before adding an under-glaze wash. For this project you will apply an under-glaze wash to the entire tile. Use a pencil to draw areas where you would like to paint your color. Remember that the pencil marks will burn off and never show in the final project.

Apply a wash of Velvet Under-glazes. Dip your paint brush in water and mix into your under-glaze. This will create a wash or thin layer of color before you print. Try overlapping colors to get interesting color combination.

Use a Brayer Roller to roll a thin layer of under-glaze onto your 'printing plate'. Before your starting this project you will need to prepare your under-glaze for printing. Pour the V-361 Jet Black Underglaze into a wide shallow container and leave it uncovered until some of the moisture has evaporated. It should the consistency of thick pudding or block printing ink before using it to print.

Print your tile. Complete your design by alternating the printing plates to enhance the positive/negative design.

Complete your project by applying clear glaze. Once your tile is dry to the touch use LG-10 clear and fire your tile.
Get Ceramic News Straight to your Inbox
Don't worry, we don't sell or spam your email address. You can unsubscribe at any time.