---
Hi, my name's Adam Russell,
And in this workshop, I'm going to teach how to Break Rules at the Boundary of craft and art… how to push it further.
This video workshop is 30 minutes long, you will have lifetime access to it, and you will be able to download it to your device.
---
OUR STORY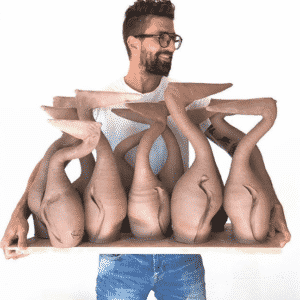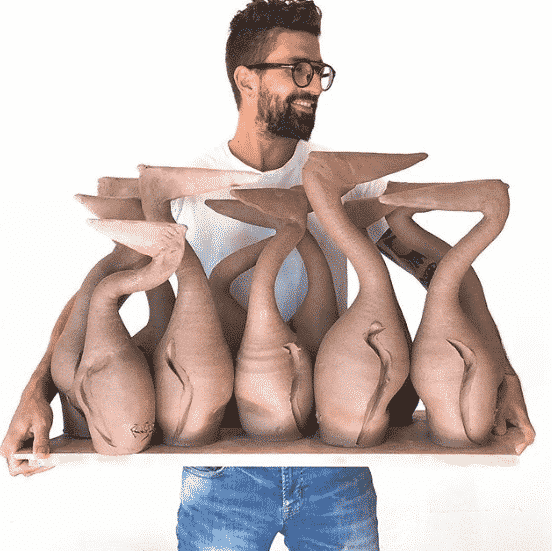 Key West Pottery is a love story.
Originated in 2009 by the artists Adam Russell and Kelly Lever, Key West Pottery (or "Honest Works Island Pottery" as it was originally called) was always meant as a joint endeavor between two creatives for one succinct purpose— FREEDOM. Freedom in all the obvious ways we conceive of it; free use of time, financial freedom, creative freedom, etc… The resulting decade of intense collaboration has brought about the realization that we have also achieved another type of freedom— liberation from the confines of a single mind.
We are a unique blend.
Part traditional production pottery— tableware and traditional function. Vessels being created in house by the hundreds.
Part Fine Art Studio— monumental outdoor sculpture and interior decor to create places and visions.
Our Company has grown to include a small army of artisans, creatives, advisors, students and collaborators who are working together with us to produce an authentic expression of this modern, coastal life — without relying on cliché. As the epitome of authentic artwork made in the Florida Keys, we carry a diverse selection of bespoke items — from the Island's BEST coffee mugs to award winning totems, visitors encounter the most well-rounded Gallery program on Duval Street.
Over this last decade, we have developed a brand of tropical modernism that is unique and diverse enough to fit into any home or collection. Our Gallery, at the center of the Historic Key West Gallery District is the quintessential Key West Pottery experience, but we love to communicate and collaborate online as well.
We believe that you will find Key West Pottery to be a soulful and sincere art experience that ties you to the local's perspective of coastal life.
Adam Russell & Kelly Lever, Owners
Website: www.keywestpottery.com
Ratings and Reviews Login
Accessing this workshop requires a login. Please enter your credentials below!