Making Peacock Feathers with Mocha Diffusion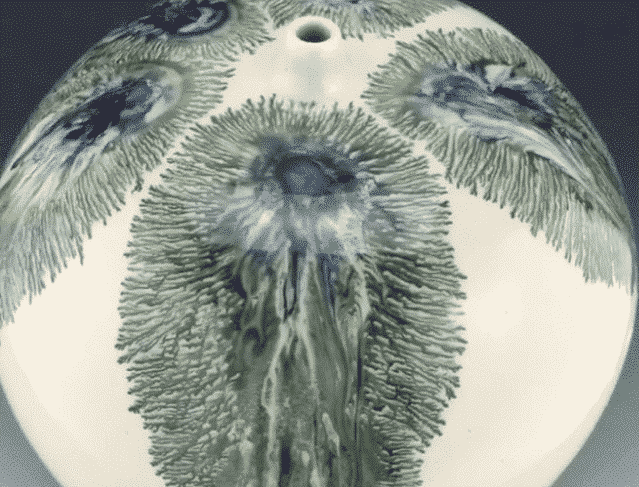 In this video, Kevin Kowalski from KowalskiPottery shows us how he creates a peacock feather inspired design using mocha diffusion.
Kevin Kowalski creates mocha diffusion and soda fired work in Santa Ana, California.
Making Peacock Feathers Using Mocha Diffusion Technique
Mocha Diffusion is the technique where you combine an acidic solution and colored oxides
together
. More specifically it is when you combined cigarette juice and an oxide together, which is called Mocha Tea. There are other alternative acidic solutions such as lemon juice, vinegar or apple cider vinegar. The main important part is that it is slightly acidic since it will be burned up when it is fired anyway.
Kevin pours slip over his bud vase in this video and works quickly to drop small amounts of the mocha tea on before the slip dries. While the slip is still wet he applies four different colors on to create the peacock coloring and allows the mocha to diffuse into the fern-like patterns. Once the slip dries it halts all movement of the mocha diffusion and is left to dry until it is bone dry and then bisqued and glazed.
To see more of Kevin's work find him on Instagram @kowalskipottery.