Wanna Learn More about using Instagram for your Ceramics Business?
Read more about our Full 30 day Instagram Workshop: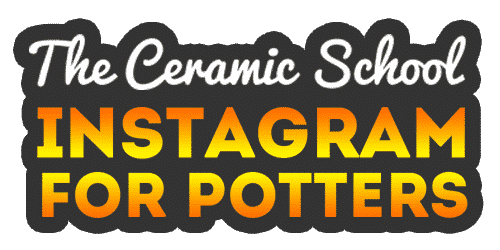 Thousands of potters around the world are using Instagram to successfully promote their Pottery Businesses...
Want to learn how to do it too?
Then our full Instagram for Potters Workshop is for you.
We take you by the hand and show you exactly how to Start & Scale your Pottery Business by using Instagram.
Andy Boswell
"If you are brand new to Instagram™ and marketing yourself online, this is the perfect primer and it comes in bite sized pieces that are easy to digest. If you are a little more advanced, this is the compilation of best practices you need to follow and tools to use. If you want to really leverage social media, this is where you want to start."
This Workshop is Organized into a 10-Step Framework for you to Follow:
Setting up your Instagram Account.
We teach you how to set up your account the right way, so that you get the most benefit out of Instagram.
By the end of Module one you will:
Know how to set up your profile to reach more people
Know how to expand your account to get more business options
Know how to define your target audience
"I thoroughly enjoyed The Ceramic School's Instagram Workshop. It was so helpful to learn tricks and tips that I have already started to use in my Instagram page. I have seen an increase in my number of followers go up every day. Sales have also increased during the 30 days. I would highly recommend any potter who is looking to build up their social media following to take this class."
Nathaniel Sheets
"I just completed the last chapter. I can honestly say that I have seen changes in my interactions as I gradually implemented some of the suggestions given. I intend to be more forceful in the implementation. I also like how practical the guides were; nothing airy fairy or get rich quick but sensible and thoughtful ideas that once tried show results. Good course!"
Greta Michelle
"I loved The Ceramic School's Instagram Workshop! It started out extremely basic, which I was almost tempted to rush through since I am somewhat familiar with Instagram. I'm so glad I didn't! There were so many little things I didn't realize I needed to know or had no idea they were options. I was missing out and I had no clue. Not only was there very basic and simple instruction, down to setting up your very first Instagram account, but it got WAY more detailed. I love that sections contained both video, and also plain text, so you could pick and choose what method you follow easier. (For me, both.) Not only did the course cover the basics, it went over basically every option or piece of Instagram available. Promotion, building an audience, important tips and tricks to make it all easier and work better. And for those of us that love organization and stimulating more ideas directly related to our personal business.. WORKSHEETS! The worksheets allowed the ideas to be put to paper, which really made it all click, and produce more that I could use for my account. This is a great all encompassing course!"
Amber Kay Raab
If you think the Instagram Workshop is the right fit for you,
and you would like to become a member of our growing community of creative business owners then...
We would Love to have you:
Lifetime Membership
$197 $47
Learn how to sell your ceramics on Instagram

We take you by the hand with videos and worksheets

Lifetime Access to all Modules and Updates

Get a Certificate at the end of the Workshop
No prior knowledge of Instagram is required.
All you need is a smartphone or tablet.

Plus, when you enroll today, you also get...
Yes!
We designed this workshop to be as easy as possible to follow.
We show you the very basics, from how to install Instagram, how to set up an account, to advanced features like how to correctly use hashtags, how to use "growth-hacks" and sales techniques to boost your sales.
But it's at an easy pace.
You get videos with narration, live walk throughs of what to click and where to click (which you can pause and rewind to watch again) and worksheets to print out and fill in.
We're sure that you won't get stuck, our videos and written content and photos are created to guide even the most technically-challenged of people =)