Join 20,000+ Potters who get our weekly email
Upcoming Online Pottery Workshops:
In this workshop we will be using an ancient technique with a bit of a twist. We will be making prints using a Majolica technique.…
Read More about the Workshop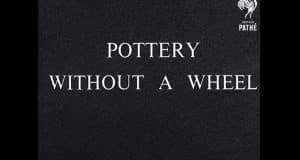 There are many ways to create pottery without a pottery wheel, and this video from British Instructional Films shows you how you can: 1) Create a thumb pot. 2) Create a coil pot. 3) Create a coil duck sculpture. 4) Create a tile. And all of these things, plus many more can be created without the use of a pottery wheel.
Hundreds of Online Ceramic Courses are here... Just for you!
Do your pots go all wobbly when they're on the wheel? Take this online ceramic course to find out how you can master the art of throwing clay.
Read More
Creating and Mixing your own glazes can become really complicated, and if you mess up, your pots are ruined. Take this Online Pottery Course to become a Glaze God - your work will look Fantastic!
Read More
Do you have a spare square meter in your Garden? Build a Kiln on it! Our online Kiln Building Course takes you through the process of designing 5 different Klins!
Read More