The Ceramic School is a Community
for Ceramic Artists
Learn from professional ceramic artists and join the largest online ceramics community.
Upcoming Online Pottery Workshops: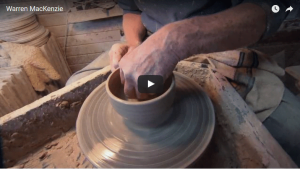 Warren MacKenzie has described his goal as the making of "everyday" pots. Not surprisingly though, his pots are found in major museums and command high prices among collectors. MacKenzie has always kept his prices low and for various time periods did not sign his work (1970s, most of the 2000s). Most of his output is produced in stoneware, although he has worked in porcelain at times during his career. A sample of his amazing work can be seen below, and you can get his pieces relatively well priced from galleries around the world, as well as on eBay.co.uk
Hundreds of Online Ceramic Courses are here... Just for you!
Do your pots go all wobbly when they're on the wheel? Take this online ceramic course to find out how you can master the art of throwing clay.
Read More
Creating and Mixing your own glazes can become really complicated, and if you mess up, your pots are ruined. Take this Online Pottery Course to become a Glaze God - your work will look Fantastic!
Read More
Do you have a spare square meter in your Garden? Build a Kiln on it! Our online Kiln Building Course takes you through the process of designing 5 different Klins!
Read More