How to Sculpt a Horse from Clay Slabs
Online Pottery Workshop with Zoe Dufour
Hi, my name's Zoe Dufour,
And in this workshop I'm going to show you how to use slabs to build up a sculpture of a horse.
You will be be learning...
How to block out your sculpture with clay slabs,

How to keep the right life-like proportions

How to use these slab building techniques to make your own sculptures
By the end of this workshop, you will:
Be confident in using slabs to create sculptures of animals
This video workshop is 2 hours and 23 minutes long, you will have lifetime access to it, and you will be able to download it to your device.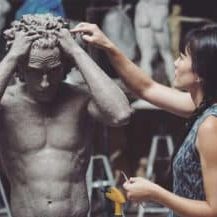 My sculpting techniques are informed by antique, Renaissance, and 19th century practices, that I have combined with contemporary materials and ceramic hand-building techniques.
While I sculpt, there is a strong dialogue between practices and thinking, a direct relationship between the hand and head.
Nature is my constant source of inspiration, as well as the materials I work with and the influence they have on the process of sculpting.
I hope to achieve works that clarify the beauty of my subjects, through the amalgamation of my studies.
Potential for tactile, emotional, and physical connections between objects, space, people and nature are what draw me to sculpt.
If you would like to view my biography, portfolio, or see more tutorial videos,
Please visit my website, http://www.zoedufoursculpture.com 
or Instagram page, https://www.instagram.com/saypience