How to Repair and maintain your electric Kiln
Video Workshop with Ryan Rakhshan
Hi, my name's Ryan Rakhshan,
And in this workshop, I'm going to teach you how to repair and maintain your electric kiln.
This video workshop is 77 minutes long, you will have lifetime access to it, and you will be able to download it to your device.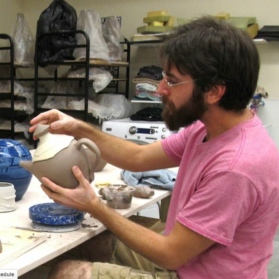 Ryan Rakhshan's work is inspired by the intricacies of human relationships. He explores the human experience using ceramic vessels and objects which utilize both the natural fluidity and the rigidity of clay.
Ryan is as interested in the technical and chemical aspects of the ceramic arts as he is in the aesthetic and utilitarian aspects of the field.
Ryan Rakhshan has been active in the ceramics community since 2008. He received his bachelor of arts in philosophy and art history from Hood College in 2011. After graduating, he taught at various community studios for three years and apprenticed under Joyce Michaud for two years. In 2014, Ryan completed a one year term of service with AmeriCorps NCCC. In 2015, he spent a year as an artist in residence at the Brockway Venter for Arts and Technology. Ryan completed a graduate certificate in ceramic arts from Hood College in 2018.
Artist Statement
My work is driven by the desire to understand the essence of what makes us human. Through my art, I aim to poke and prod at the deepest, most profound aspects of our personalities. Why do we feel angst, curiosity, and passion? What makes us contemplate our own existence in a way that no other creature does? Exploring materials and my own consciousness in conjunction with existentialist theory is an important part of my process. In most philosophies throughout history, the general premise can be condensed down to five or six sentences. With Existentialism however, the reader needs to finish the novel and sit with the ideas presented in the author's work. The feelings evoked can't be conveyed with words, but with stories. I want my work to tell these stories and evoke these intangible emotions.
Nietzsche's idea of the eternal return from "Thus Spoke Zarathustra" proposes that time is cyclical, or that all events have already happened and will continue to repeat themselves forever. Any action we take, must be taken repeatedly through history and the future, and so according to Nietzsche, all actions have gravity, because by taking an action, we're committing ourselves to it ad infinitum. Milan Kundera builds upon this idea in his novel "The Unbearable lightness of being". He says that the eternal return is impossible, and so all our actions have lightness, they are insignificant. "Life which disappears once and for all, which does not return" writes Kundera, "is without weight...and whether it was horrible, beautiful, or sublime...means nothing." The weight of our insignificance is unbearable. The lightness of our existence is a burden too heavy to carry.
My most recent work is inspired by many authors from this school of thought. The coexistence of opposites, (x = ~x) flies in the face of traditional syllogistic logic. All order and consistency that our society has been built on crumbles. As gravity is weightlessness, eternity is impermanent, and profundity is superficial, boulders may be suspended by liquid, untethered by gravity.