How to make one of my Darted Mugs  
Video Workshop with Julia Claire
Hi, my name's Julia Claire,
And in this workshop, I'm going to teach how to make one of my darted mugs.
This video workshop is 60 minutes long, you will have lifetime access to it, and you will be able to download it to your device.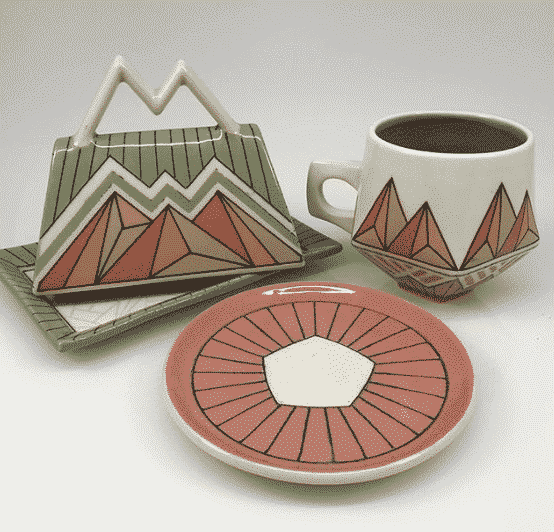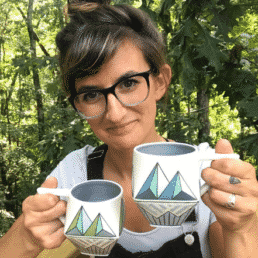 Heres my story…
I grew up in a tight-knit family in Erie, Pennsylvania. My mother always wondered what I would be when I grew up. I carried around a pair of scissors, tape, paper and any found objects I could find. I was always turning ordinary objects into works of art! I drove my grandfather CrAzY because he could never find the tape!
It came as no surprise when I developed a skill for drawing and painting in high-school! After graduating I pursued a degree in health and nutrition, because "there's no money in art". I heard that a lot. Something was missing though and I felt disconnected. I was missing a huge part of me. So, I transferred to an art school to pursue art education and took my first college painting class! YEAH!
As part of the art-ed curriculum I had to take ceramics. It was absolutely dreadful. I couldn't center the clay and everything I made looked like blobs. Then it happened. I was determined to get it and I DID! It all clicked and I was able to throw a centered pot on the wheel! I called home and said
"MOM, I know what I want to do with the rest of my life, CERAMICS!"
She was moderately shocked but SO INCREDIBLY SUPPORTIVE. I am blessed to have parents who not only encouraged me to follow my dreams, but did everything they could to make sure I achieved them!
I received my BFA in ceramics from Edinboro University of Pennsylvania in 2010 with a minor in Art History. I dropped my art-ed major so I would have more time to create without abandon. A week after I graduated I received a phone call asking if I would be interested in teaching a wheel class and running a community clay studio called Clayspace.
Talk about diving right in! I learned how to teach, through teaching and managed a clay studio for 4 years! I taught everyone from at-risk youth to Bhutanese refugees. I used clay as a tool for healing and learning.
I would have never left home, but my friends presented an opportunity I had always dreamed of. It is with great excitement that I now reside in Asheville, North Carolina. Where I am a resident artist at Odyssey Clayworks in the River Arts District! I took a demotion so to speak. Instead of running a clay studio I am working in one and I will be honest, I LOVE IT! I thank the powers of the universe every day, for bringing me to this beautiful place.
I am so grateful to share my talents with you!
Peace and Love, Julia