Make an Origami Bowl with Homemade Paperclay
Online Workshop with Lissa claassens
Hello, my name's Lissa Claassens.
And in this workshop, I am going to show you how to make your own paper clay, and then use it to create a beautifully delicate origami bowl.
I'll give you a step-by-step guide to:
How to plan your own design,
How to make paper porcelain using toilet paper,
How to make other kinds of paper clay using your clay slabs,
How to make paper porcelain in bulk using a blender
This is a fun way to approach building anything in clay, such as cups, bowls, and platters. It is useful for sculptural projects as well. By adding paper to the clay one can make the slabs very thin and achieve a pure, crisp effect without sacrificing dry strength.
This is a workshop for both beginners and more advanced potters to have in their repertoire.
You get:
Live Demo with me: 10:00 am PDT 20th September 2020.
We will meet up online to give you a live demo.
My Video Workshop Replay
The live workshop will be recorded, and you will have lifetime access to it. You can watch it online, or download it to your device to watch offline at any time.
Q&A
After our online workshop, we will meet up for a live Q&A where you can ask me any questions about the process. This Q&A will also be recorded, and you will see it inside your account.
Equipment List as a PDF download.
Here I have listed all the things you need to get started right away, and the links to buy them online, in one easy printable PDF document.
After this workshop, you could be making beautiful work like this:
These are examples from my students: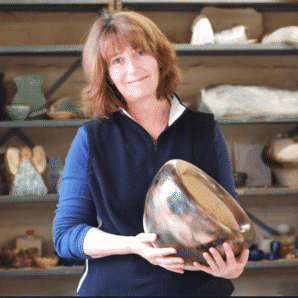 Lissa started her professional journey with clay working in the studio potteries of
Kolonyama in Lesotho and Mapepe Craft in Henley-on Klip. She has owned her own craft
shop and worked in a non-profit organization giving therapeutic outreach pottery sessions
to vulnerable people. Lissa sculpts figuratively, lately focusing on themes exploring her own
childhood in South Africa. She is also a production wheel thrower and teaches pottery
lessons to adults and children in her Hout Bay studio in Cape Town. Making for the film
industry has been an exciting new departure. She recently made lamps and idols for the
Troy series and 'smashables' for Warrior 2, both filmed in South Africa. She is now
producing online workshops via private YouTube videos on different techniques to reach a
worldwide audience. Lissa studied Social Anthropology and African Languages at the
University of Cape Town and studied Ceramic Science at the Witwatersrand Technikon. She
is a second-generation potter.
www.earthplaystudio.com
@earthplaystudio
Facebook: Earth Play Studio
lissapottery@gmail.com