How to design and transfer computer generated stencils for high precision glaze application
Video Workshop with Kenny Sing
Hi, my name's Kenny Sing, from Turn Studio
And in this workshop, I'm going to teach you how to design and transfer computer generated stencils for high precision glaze application.
This video workshop is 39 minutes long, you will have lifetime access to it, and you will be able to download it to your device.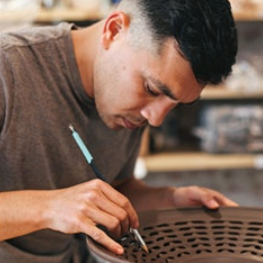 Kenny Sing is a ceramic artist and graphic designer with over 14 years of experience, working with clay since he was 16 years old. The foundation of his work has always been about the marriage of clay and technology.