How to Decorate with Slip
Video Workshop with Joe Thompson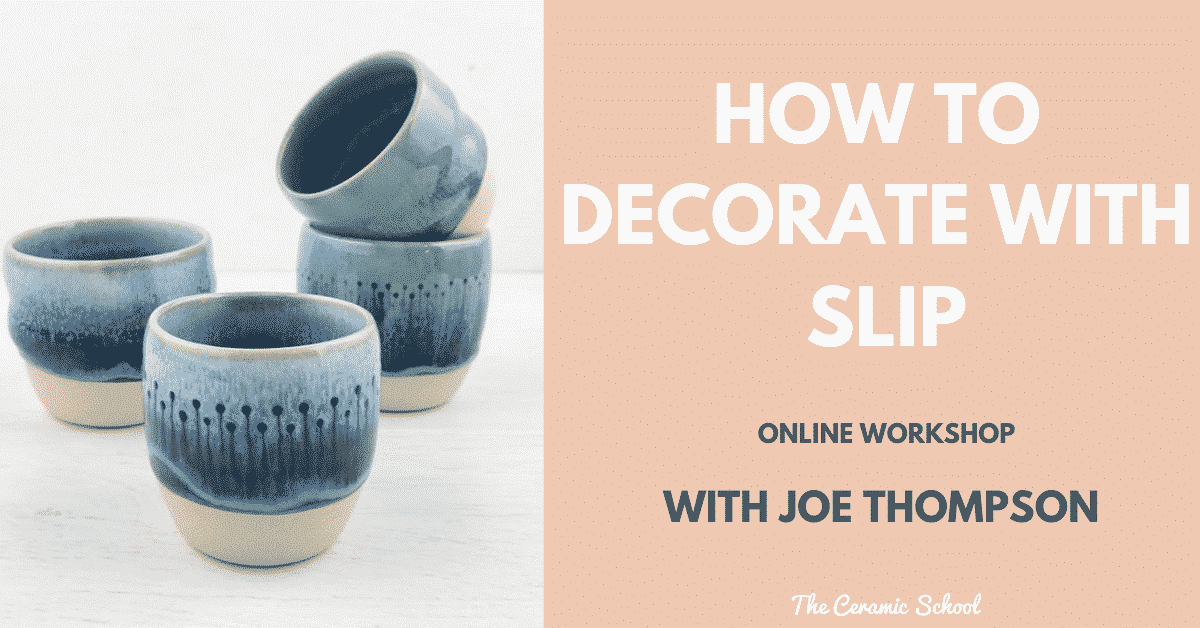 Hi, I'm Joe Thompson, a graphic designer turned self-taught ceramicist.
And today, I'm going to teach you how to use slip to create unique surface decorations.
Inside you'll learn:
How to make your own slip
How to colour your slip
How to use slip to decorate your ceramics
For example...
Hi, I'm Joe Thompson, a graphic designer turned self-taught ceramicist.
For the last couple of years I've been making unique handmade ceramics out of a tiny studio in the UK.
I got started in an unusual way. When planning our wedding, my wife and I wanted to have something to send out as our Save the Dates that our guests would actually keep and use.
We decided that ceramic coasters would be the ideal solution. When we couldn't find anywhere offering what we had in mind, and despite never having worked with clay before, I decided to make them myself. I borrowed a kiln, 3D printed a stamp of my artwork, and used a rolling pin and a cookie cutter to make them on the kitchen counter.
They worked so well, and I had enjoyed the process so much, that I looked into whether I could come up with a more commercially viable production process. I realised that a CNC mill could easily cut bisqued earthenware disks so I could produce individually personalised coasters.
Around this time the company I worked at as a graphic designer were looking to make redundancies, so I took the opportunity and used the redundancy money to invest in the equipment to start producing them full time.
If you scroll back to my first Instagram posts you'll see the earthenware coasters I was producing.
The business grew steadily over the first few months and I quickly reached the limit of what my little CNC mill could reasonably produce in a day. I had been using the time I spent running the mill to learn about the other aspects of ceramics, and started hand building geometric forms.
I bought a kiln capable of firing to higher temperatures and started working with stoneware. I knew that this higher temperature opened up a vast range of colour possibilities and used John Britt's Complete Guide to Mid-Range Glazes to start producing my own.
I was fortunate enough to be given a wheel, and taught myself to throw using videos on YouTube. I have stopped making the earthenware coasters and now use the CNC mill to make stamps to personalise my wheel thrown pieces.
I continue to learn and experiment with new ideas and techniques, and enjoy the infinite variations possible within this art form.
The studio name comes from the history of the site it's stood on, which was a 16th century forge.
Please see www.oldforgecreations.co.uk/shop for more of my work, and don't forget to sign up to my mailing list for occasional updates and unique discounts!