How to be fearless with underglaze
Online Pottery Workshop with Tony Young
Hi, my name's Tony Young,
And in this workshop I'm going to show you how to be fearless with underglaze.
You will be be learning...
How to use underglaze, stencils, stamps, sponging, screen printing, taping
By the end of this workshop, you will:
Be confident in using underglaze on your ceramics.
This video workshop is 1 hour 42 minutes long, you will have lifetime access to it, and you will be able to download it to your device.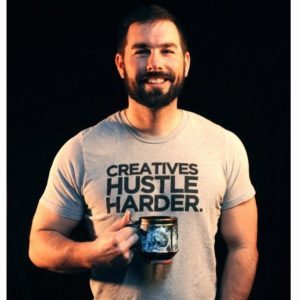 My finishes are inspired by graffiti and my recent travels to Europe. I took a street art tour in Shoreditch of London and that has had a profound influence on my work.
I am interested in recreating gritty textures, layering bold imagery and text, while mixing in elements of my own design work. I work in sections and use underglaze. I feel it's the best solution giving me layered transparent effects.
My work revolves around a single word: "RIOT". It's a word that was tagged on a wall I photographed while traveling. It Glowed. So simple, yet so complex. What do you "RIOT" for? Family? Love? Cheesecake? Art?
When I choose a mug from my collection for coffee or a cup for a cocktail it's special. Each of those cups have a story. They're conversation starters. They make me reminisce. My goal is through grimy layers of graffiti, text, skulls, and ants I can translate that feeling to others. I hope people feel special when using my cups. If I can make artwork that somehow creates a link between myself and someone else or starts a conversation between two people then I feel I have succeeded as an artist.
Follow me on Instagram: @youngy_03
For discounts, shop updates, and special announcements: Join my Email List.
Etsy Shop: https://www.etsy.com/shop/TYoungCeramics