Best Gadgets for the Pottery Studio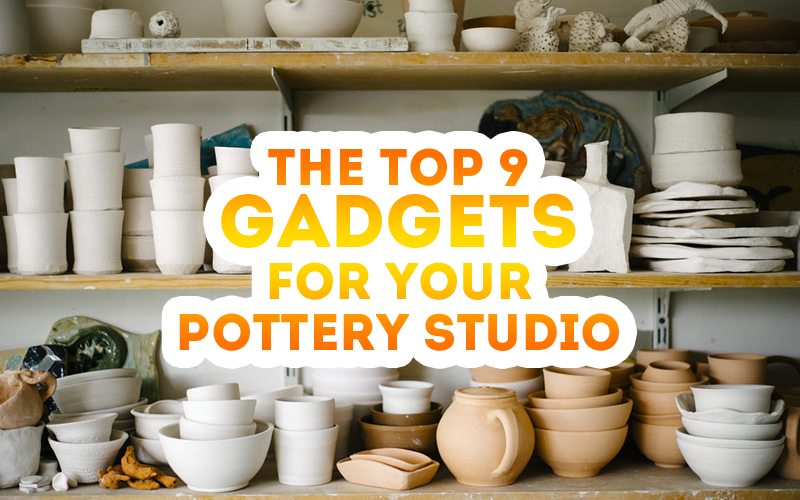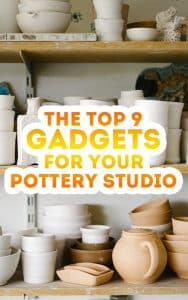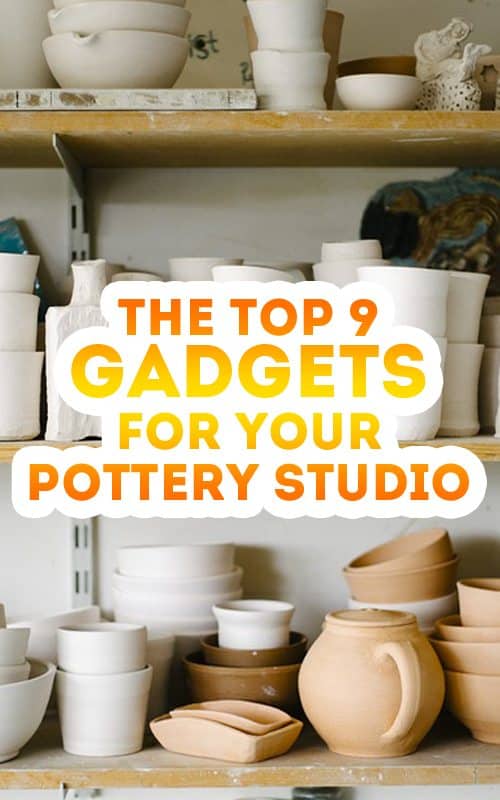 Every pottery studio needs gadgets. Working can be made much more enjoyable if you have the right gadgets. Pottery studio gadgets can help make your environment livelier and make tasks easier to complete. The following 9 pottery studio gadgets that can be used in your potters' studio, and are very helpful to making working in the studio less laborious, and enlighten your day and mood in your pottery studio.
Top Nine Gadgets for your Pottery Studio
Coffee Makers
Coffee makers can be essential to refueling and keeping your energy up in the studio. If you come in the morning to the studio a cup of coffee or tea will help wake you up and energize you to work. When working late into the night for deadlines it can be helpful to have coffee to keep you going late into the night and stave off the effects of tiredness. Below are our top 5 coffee makers that can add an energizer to the studio:
1 Mr. Coffee BVMC EVX23 12 Cup Programmable Coffeemaker
2 Hamilton Beach 49980A Single Serve Coffee Brewer and Full Pot Coffee Maker
3 Keurig K55 Single Serve Programmable K-Cup Pod Coffee Maker
4 Hamilton Beach 49976 Flex brew 2-Way Brewer Programmable Coffee Maker
5 Keurig K15 Single Serve Compact K-Cup Pod Coffee Maker
Wireless Speakers
When you are wheel throwing or hand building it can be hard to work with headphones on. They can get in the way and stop you from conversing with others in the studio. Having wireless speakers to place somewhere in the room to listen to music or other forms of media such as podcasts can make it easier and more enjoyable to listen to. Below are our top 5 picks for wireless speakers that can help make your music playing experience easier:
1 Cambridge SoundWorks OontZ Angle 3
2 DOSS Touch Wireless Bluetooth V4.0 Portable Speaker
3 JBL Flip 3 Splashproof Portable Bluetooth Speaker
4 Anker SoundCore Bluetooth Speaker 
5 AOMAIS Sport II Portable Wireless Bluetooth Speakers
Light Boxes (Portable Photo Studios)
Light boxes are very useful for taking high-quality photos without a professional photographers' setup. It can also help minimize the amount of space needed in order to take said photos. These lightboxes are affordable and easy to transport as well. Below areour top 5 light box picks to help make photographing your work easier:
1 AmazonBasics Portable Photo Studio
2 ESDDI 32″ x 32″ / 80 x 80 cm Photography Lighting Tent Lightbox Kit 
3 Portable Photography Studio 9 Inch – Mini Photo Studio Lightbox
4 StudioPRO 24″ Photo Studio Portable Table Top Product Photography Lighting Tent Lightbox Kit
5 Folding Portable Mini Lightbox Photography Photo Studio Sofebox
Heat Guns & Blow Torches
Heat Guns and Blow Torches are extremely useful for helping work dry out faster – especially if you are wanting to throw large pieces on the wheel. Below are our top 3 heat guns, and top 2 blow torches, that can be used to speed up your drying times in the studio:
1 Tacklife HGP70AC Professional Heat Gun with Three-Temperature Settings & Four Nozzle Attachments
2 PORTER-CABLE PC1500HG with variable temperature dial
3 Master Appliance PH-1400K with Variable Temperature dial and a programmable LCD Dial – Professional
4 Bernzomatic TS8000 – High Intensity Blow Torch & Standard Propane Fuel Cylinders
5 Mag-Torch MT535C Self-Lighting Regulated Blow Torch
Phone Holders
If you record videos with your phone while you work then having a phone holder can make it easier to record videos from a distance. Phone holders are also useful for taking stable photos as well. Below are our top 7 picks for phone holders –  that can make recording videos and photos much easier in the studio:
1 Xiner Mini Flexible Octopus Tripod
2 Premium HD Selfie Stick & Tripod 3-in-1 Photo/Video Kit
3 GRANDO Selfie Stick, 2 in 1 Clip Extendable Monopod with Bluetooth Remote and Tripod Stand
4 Universal Adjustable Tripod + Wireless Bluetooth Remote
5 DIGIANT 50 Inch Aluminum Camera Tripod + Universal Tripod
Adjustable Clamp Lamps
Adjustable clamp lights are great for relocating light in order to see what you are working on better. Working in the dark is not good for your eyes and can cause you to mess up. It is especially important when carving to have light in order to make sure you are seeing the work fully. Below are our top 5 recommendations for lights that can assist in brightening up the studio:
1 Globe Electric 35″ Heavy Base Architect Spring Balanced Swing Arm Desk Lamp
2 Globe Electric 32″ Multi-Joint Desk Lamp with Metal Clamp
3 Simple Deluxe Clamp Lamp Light
5 Newhouse Lighting 3W Energy-Efficient LED Clamp Lamp Light
Magnifying Lamps
Magnifying lamps have special lenses that allow you to focus in on your work. This is especially helpful for when you are doing very fine details in carvings and design on clay. It can also help to examine areas for potential cracks or fractures as well. Below are our top 5 picks for magnifying lamps that can help you focus in on your precise work:
1 Studio Designs 12308 Magnifying Lamp
2 V-LIGHT Full Spectrum Natural Daylight Effect Magnifier Task Lamp
3 Stalwart 75-MAG1003 40 Led 5x Desktop Magnifier Gooseneck Lamp
4 Neon 2.5X 5X Magnification Clamp Folding Magnifier
5 Brightech Light View PRO LED Magnifying Lamp
Scales
Digital scales are designed for precise measurements, which can be helpful for an assortment of reasons in the studio. Scales can be used to measure glaze ingredients, clay ingredients, mason stains, clay, water, and other things that will need exact measurements for recipes. Below are our top 5 picks for scales – to assist with weighing things in the studio:
1 Ozeri The Epicurean LED Kitchen Scale
2 Etekcity Digital Kitchen Scale
3 AMIR 500g/0.01g Digital Kitchen Scale
5 Etekcity Digital Body Weight Bathroom Scale
Timers
Timers can be very useful for keeping track of how long it takes you to make a piece. They are also useful for training yourself to throw quicker with fewer moves. Below are our top 5 timers that can help keep track of time in the studio:
1 Lavatools KT1 Digital Kitchen Timer
2 Wrenwane Digital Kitchen Timer
3 Vinker Digital Kitchen Timer
4 Metene Digital Kitchen Timer
5 Century 7 Day Heavy Duty Digital Programmable Timer
Pottery Studio Gadgets Conclusion
In conclusion, even though there are not many gadgets that can be used in the studio comparatively to offices or college there are still many that can assist potters in the studio. We hope these gadgets listed above can hopefully significantly improve your time in the studio and give you ideas for other potentially useful gadgets to add to the studio. If you have discovered other gadgets that are helpful to you in the studio then please share with us in the comments below!